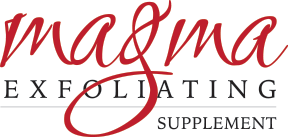 PUMICE HAS BEEN USED SUCCESSFULLY for years in a variety of exfoliating and body cleaning product formulations—shower gels, scrubs, hand cleansers and facial products. One of the truly valuable characteristics of pumice is its friability—meaning it can be crushed and processed to a super-fine powder and still retain its gentle abrasive quality (texture). Pumice-enhanced scrubs and soaps exfoliate without needing chemical help. A gentle scrubbing is all that is needed for the microscopic surfaces of the pumice to do the job.
There are several key consideration criteria for selecting an exfoliant or scrub grit. One of the first is a proven track record: pumice has been used for many years as highly effective grit in exfoliating products.
Pumice is used so widely because it is cost effective, sustainable, and eco-friendly. The valuable performance characteristics of pumice were "manufactured" by Mother Nature and the refining-to-grade process is minimal. Pumice is abundant and benign. And unlike biodegradable botanical grits, pumice does it add a carbon source with the potential to unbalance the eco system that it is eventually washed into.
The Magma source—the Hess pumice deposit—is naturally white (84 brightness on the GE scale) and of a natural purity that puts our pumice in demand world-wide.
NOTE: The two magma-branded grades below are commonly used exfoliant grits, but we sell a variety of pumice grades to the cosmetics industry for a variety of formulations. See the full list of our commercial exfoliant grades in the MORE EXFOLIANT GRADES sidebar.
Use Magma™ as a stir-in exfoliator with your favorite cream, gel, or cleanser.
Magma™ is a fine pumice powder, making it easy to pair it with a favorite beauty product. You also have full control over the exfoliating effect—just add less or more of the exfoliating powder depending on skin type and the task at hand.
INGREDIENTS: Fine, pure natural pumice.
DIRECTIONS: Apply a small amount of your favorite liquid soap, cleanser or moisturizer in the palm of your hand. Add a pinch of Magma and mix thoroughly. Rub onto skin using a circular motion and rinse with warm water.
WATER ONLY: Magma™ pairs great with just warm water! With a soft, moist cloth, dab on a little Magma and rub gently onto skin in circular motion. Rinse with warm water. Or form a loose paste with Magma and warm water, rub in a circular motion and rinse.
ADDITIONAL INFORMATION and SUPPORT DOCUMENTS:
» Technical Data: the physical and chemical properties of our natural pumice.
» Pumice Safety Data Sheet (PDF)
» Knowledge Brief: A Proven Microbead Replacement.
MAGMA™ FACE (XF)
Extra-fine exfoliating grit for facial creams and soaps
» Size/Grade: Magma (extra-fine facial grit / #0-1/2)
Technical Data Sheet (PDF) for Magma™ Face XF (#0-1/2)
BUY MAGMA™ FACE (XF)
MAGMA™ FOOT (FN)
Fine exfoliating grit for foot scrubs and hand soaps.
» Size/Grade: Magma (fine scrub grit / #1-1/2)
Technical Data Sheet (PDF) for Magma™ Foot (#1-1/2)
BUY MAGMA™ FOOT (FN)